Doctor Blueberry Pie is a mascot on Jacks Journey. His name in game is Dr. Blueberry Pie. He is the main antagonist in Jack's Journey. He can bake lots of pies. 
Appearances
Edit
Dr.s Mischief
Halloween Party 2013
He first visited during the Pies Takeover.
His outfit is all bait items.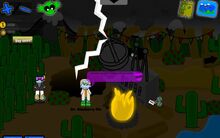 Ad blocker interference detected!
Wikia is a free-to-use site that makes money from advertising. We have a modified experience for viewers using ad blockers

Wikia is not accessible if you've made further modifications. Remove the custom ad blocker rule(s) and the page will load as expected.