The Map is the way to get to the locations of Jacks Journey very quickly by just pressing them. The map was released in the April 6th 2013. You can get to the Town, Welcome Room, Pet Shop, Helicopter and Airport Entrance, Beach and Wizard Tower Entrance via the Map.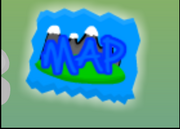 There is an empty place in the Map, Probably for the upcoming rooms.
Ad blocker interference detected!
Wikia is a free-to-use site that makes money from advertising. We have a modified experience for viewers using ad blockers

Wikia is not accessible if you've made further modifications. Remove the custom ad blocker rule(s) and the page will load as expected.